SparkBall Beta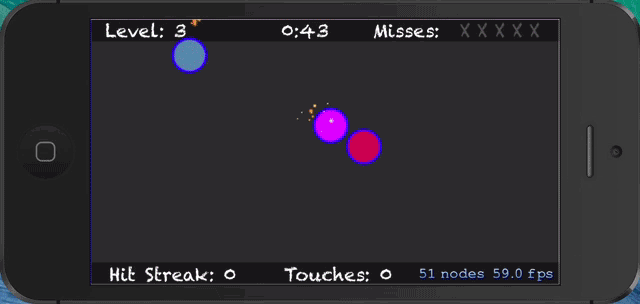 EDIT: SparkBall has been officially released. Download it from the App Store now: https://itunes.apple.com/us/app/sparkball/id791588355?ls=1&mt=8
SparkBall is my upcoming iOS game. I am still recruiting beta testers, so if you would like to try the game out early please just fill out the form over at Test Flight: 
Once you register a device with test flight, I just need to authorize your device (this restriction is in place due to both Test Flight, as well as Apple). Once I've done that you can download SparkBall straight to your device!
SparkBall is universal iOS – supports any iPad/iPod/iPhone that is running iOS 7.0 or later.
The goal of the game is to remove the balls by tapping them. As you advance each level, another additional ball is added (level 4 = 4 balls). You are awarded points for each ball you successfully tap (you will want to lead the fast ones a bit!). If your tap misses a ball, a "Miss" is recorded (like a strike, "X"), and in addition you are penalized -50 points. If you manage to get several balls in a row, or even complete levels without any misses, you will be awarded with bonus points.
The game also includes customizable features that allow you to change the colors used to create the balls and background, as well as add a custom image to use as the background.
New features are on the way, such as:
More Game Modes
Single Device Multiplayer
Adjustments to Scoring & Bonus Point Opportunities
Game Center Support & Achievements
Sound Effects & Music
Feedback is welcome,  if you have any suggestions or ideas please feel free to share.